Award Winning, Sustainable Innovation
We develop the right consumer-driven solutions for your business – and the planet
Innovation, sustainability and corporate social responsibility are in every choice we make as a business.
As a co-manufacturer, we're entrusted to produce coffee, tea and other hot beverages for some of North America's largest brands and retailers, many of whom recognize that our focus on sustainability and corporate social responsibility helps them support and achieve their own similar commitments. Their own brands and sustainability commitments have benefited as we've reshaped the coffee market with industry-first innovations like our PῧrPod100™ compostable** single serve pods and our newest paper-based recyclable container innovation, AromaPak™, featuring Boardio® technology.
Our coffee pods are certified compostable for processing in commercial facilities where accepted – check locally.
Our own sustainability journey encompasses ongoing process improvements and draws on insights, innovation, and ingenuity. The results benefit us all – and most importantly, our planet.
Learn More about sustainability at Club Coffee.
Boardio® – A registered trademark of AR Packaging AB
---
Harnessing the Power of Green Energy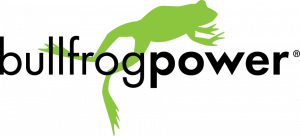 Club Coffee is proud to partner with Bullfrog Power to reduce our environmental impact!
---
CANADA: USA: