Why

Fresh Coffee Matters
Talk about oxygen and coffee staling and why we chose to use freshness wrappers
---
Keeping Coffee

Fresh
What is a Freshness Wrapper?
Freshness wrappers are a packaging film that act as an outer barrier against oxygen, and other factors that stale coffee.
Protect coffee from staling
Ensure consistent freshness and quality
Like many packaging products that require barrier properties (think cereal, chocolate, dairy or almost anything from the center aisle of the grocery store), packaging film used for freshness wrappers are not recyclable or compostable. However, they represent a small fraction of the overall packaging material of the pods – less than 1% of packaging waste.
---
Compostable**

Packaging Innovation


The Next Generation of Compostable** Freshness Wrappers
Coming in 2019, our next generation Compostable** Freshness Wrappers will provide all the same great freshness freatures, but in a Certified 100% Compostable** film.
Field testing is currently underway to ensure the product meets BPI's strict standards:
ASTM D6868 standards, including:

Disintegrates within an established minimum time period
Produces compost that enables plant growth
Safe for the environment, no soil toxicity

Tested for fluorination
BPI prohibits all carcinogens, reproductive toxins and PBTs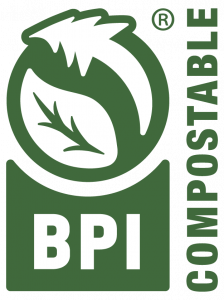 BPI is North America's leading certifier of compostable products and packaging. Their certification program ensures that products and packaging displaying the BPI logo have been independently tested and verified according to scientifically based standards. They promote best practices for the diversion and recovery of compostable materials through municipal and commercial composting.
---
Great Tasting Coffee in

Compostable** Pods
Compostable Pods in Compostable Freshness Wrappers – a Match Made in Heaven

Our PῧrPod100™ technology delivers the convenient, high-quality coffee, tea and hot beverages you expect in a compostable** single serve format, with the right solution to the waste associated with single serve.
Our single serve pods are made with plant-based materials and are compostable** in industrial composting facilities.
The filter-brewed coffee experience you love
Convenient format – no need to separate, just brew and renew!
Easy disposal to divert 100% of coffee food waste from landfills, reducing greenhouse gasses.
Keurig-compatible
**Our coffee pods are certified compostable for processing in commercial facilities where accepted – check locally.
*K-Cup® is a registered trademark of Keurig Green Mountain, Inc. Club Coffee Craft Roasters™ single serve pods are not affiliated with nor approved by the makers of K-Cup® brewing systems.
---
Changing The Industry
"Club Coffee is the first manufacturer to earn BPI certification for single serve pods. Diverting products associated with food residuals away from disposal is complicated, and BPI certification is a critical piece of the process, ensuring that items will break down in a timely manner in the appropriate composting environment, and not have a negative impact on the quality of the finished compost."
Canada: USA: