SEATTLE, WA/ TORONTO, ON/VANCOUVER BC  – November 28, 2017 – Seattle-area residents can now compost single serve coffee pods in the PurPod100™ format with the rest of their food waste.  Composting leader Cedar Grove has approved all coffee pods made using the certified 100% compostable PurPod100™ innovation as the first (and only for now) to be accepted in their residential curbside organics programs serving more than 300,000 households in Seattle and the Pacific Northwest.
The decision includes brands such as Boyd's, Ethical Bean and Jumping Bean whose cartons are marked with the PürPod100™ logo. This action builds on Seattle's global reputation for environmental leadership and follows Cedar Grove's 2016 acceptance of PurPod100™ coffee pods from its commercial and institutional customers. The approval followed extensive testing of the pods and consumer information studies after certification of the pods as compostable by the Biodegradable Products Institute (BPI).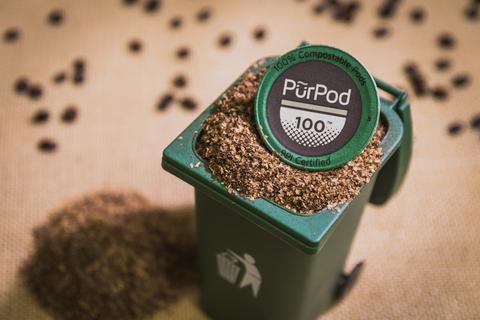 Club Coffee CEO John Pigott applauded the action, "100% compostable pods are the clear choice for people who want quality coffee and single-serve convenience without the waste associated with conventional plastic pods. Cedar Grove is a leader in composting and organics recycling and we are glad to earn their support in diverting single serve coffee waste in the Pacific Northwest to composting." Club Coffee is the producer of PurPod100™ the world's first certified 100% compostable pod for coffee, tea, and other hot beverages.
Cedar Grove's Director of Marketing and Community Relations Karen Dawson stressed that only brands in this certified 100% compostable format are being accepted. "Other brands claim to be compostable or biodegradable but it's very simple – until they meet our testing requirements as truly 100% compostable, they don't work in our program." Cedar Grove lists items it accepts including the 100% compostable pods at http://cedar-grove.com/compostable/accepted-items.
Cedar Grove approved the pods for inclusion after multiple tests and because the pod's brown ring and PurPod100™ information are key distinguishing features, helping consumers identify that these pods can go in the organics waste stream. The pods were tracked to ensure they broke down fully to become part of the compost that the company sells to customers. Other tests in Seattle-area condo and apartment buildings and in offices such as at the University of Washington showed that people will dispose properly of approved compostable pods.
Testing processes at Cedar Grove are facilitated by the Compost Manufacturing Alliance. "The Compost Manufacturing Alliance, acting as the field testing agent for Cedar Grove and nineteen other processing facilities in the U.S., commends Club Coffee's ongoing efforts to proactively engage compost manufacturers in their efforts," said Susan Thoman, Principal, and Managing Director.
The decision comes as the Ontario legislature in Canada debates a bill that would require all single-serve pods to be compostable. If approved, Toronto would be the first major city in the world to switch completely to compostable coffee pods, a move seen by many waste management experts as a progressive act towards single-serve waste reduction.  Further testing is expected to lead to other composters accepting these pods across the country following Seattle's lead.
To learn more about the PurPod100, please visit: www.purpod100.com